Pulling the strings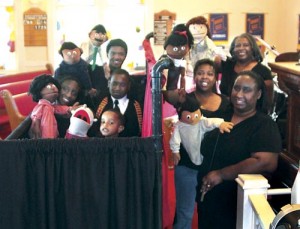 Over time, methods for reaching the masses with the gospel of Jesus Christ have evolved from radio or television to podcasts, websites and other technological forms. 
Power Source Puppet Ministry, the name ministry director Kristen Wells gave the restored and restructured group of young puppeteers at Grace Temple Missionary Baptist Church nearly 15 years ago, was inspired by the Scriptures found in Acts 1:7-8. 
"But you will receive power when the Holy Spirit comes on you; and you will be my witnesses in Jerusalem, and in all Judea and Samaria, and to the ends of the earth." (Acts 1:8/NIV)
"…Jesus is the source of our power when it comes to spreading his word," said Wells, who has been ministering with puppets for over 24 years and is a charter member of the Lompoc chapter of Puppeteers of America. 
According to their website the Puppeteers of America is a nonprofit organization founded in 1937 to provide information and a gathering place for thing pertaining to puppet theater. 
On April 28, puppeteers across the country celebrated a National Day of Puppetry. According to experts, the art of puppetry has been in existence since before the times of Aristotle. In recent times, puppets continue to be used as a means of entertainment and storytelling for both children and adults.
Wells notes that sharing the gospel of Jesus Christ with puppets creates a non-threatening atmosphere for viewers.
"Sometimes when people hear the preaching… [they] are intimidated," she said.
Wells, who admits she does not like being out front, said recently that this form of ministry is "a good outlet" for other church workers who feel the same, especially the youth in the church. 
The Power Source Puppet Ministry at Grace Temple has 11 members, of which seven are teenagers. 
 "God's word can be fun," said Wells who is also the Youth and Young Adults group president as well as a Sunday school instructor. She said her method of teaching with puppets, "makes you want to learn and be a part of it."
Being a part of the teaching is an important component of the ministry according to Grace Temple Senior Pastor, the Rev. Ron L. Wiley. 
"Preaching alone is not the only w ay to reach people," said Wiley recently, adding that although he is no longer a member of the puppet team it is still close to his heart. 
"The church gleans from the young people," Wiley said. "Even the older people [benefit]."
Power Source's youngest member is 3 years old and in years past senior church members have also taken part.
"It helps create a good foundation for [the youth]," said Wiley, adding that the mission is to teach "who God is, and what He does for them."
The ministry performs regularly at area convalescent homes where Wells says the residents seem to enjoy the show and they are often asked to come back.
Mary Lindsey, Wells' mom, is responsible for bringing the Christian puppetry seed to Lompoc from Patrick AFB, Fla., where her husband was stationed and her children learned the art, but was reluctant to learn the craft herself.
 Lindsey said as she was serving as a chaperone for her daughter's performances, she got pleas to join in.
"I kept hearing: 'Mom, you got to do this with me!,'" said Lindsey, "[So] I had to learn."
Lindsey now serves as co-director of Power Source with her daughter while her granddaughter Kyissa Lindsey, 14, represents another generation that will continue in this area of service. 
Kyissa says she has been carrying a puppet since she could walk, and still enjoys participating. While her ministry mates have different reasons for choosing the puppet ministry, all agree that they want to stay on board.
Stanley Holmes, 13, says he enjoys the performances the most. Tre Bridgette, 15, says he enjoys the fellowship with his peers behind the stage. Adding that holding your arm up for a long skit can be challenging.
"That's what puppet aerobics is for," said Genie Toran, 30, who has been a puppeteer since she was 10.  Puppet Aerobics teaches movement and endurance techniques.
In the early days of the ministry the puppets were handmade from bed sheets; today, according to Wells, the group rotates performances with over 50 puppets that range in cost from $60 to $120 each.
Power Source has also appeared on Sue Beckman's ''Central Coast Kids'' on TAP-TV and has performed at Lompoc's Carousel of Cultures for the last five years as well as various contests and conferences around the country.
All combined, the puppet ministry at Grace Temple has been around for 24 years, since Mary Lindsey and her family brought the idea to the late Pastor Dan Tullis. It continued, even with the threat of disbandment when Wells went away to college. 
Kristen Wells says she hopes to one day be teaching the art of puppetry to the children of the young people in the ministry today, or at any rate she hopes to stay involved.
"It is such a part of my life," she said  recently, "I get to be creative, I will stick with it as long as the Lord lets me."